Welcome To Our Northwest Coast Native Art Gallery
Large Selection Of Limited Edition Native Art Prints
As a publisher of limited edition serigraphs we are the original source for high quality prints. We have an extensive selection and offer one of the most affordable ways to own authentic Indigenous art of the Northwest coast.
Shop With Confidence
All of our editions are printed on high quality, acid free paper. All prints are numbered, inspected and signed by the artists, and they are sought after for their low edition numbers. Once an edition is sold out, it is truly gone, and no further prints will be made. This is another reason why Northwest Coast Indigenous Art prints are gaining in worldwide popularity.
Supporting Native Languages and Cultures
We take great pride in what we do. We are committed to building and maintaining exceptional relationships with established and up and coming Native artists; and to connect with, and give back to their communities by allocating a portion of our sales to the preservation of Indigenous languages and culture.
Find out about upcoming releases early, and receive
exclusive offers and savings
by signing up for our
newsletter
below.
Dealer inquiries are always welcome. Retailers and museums click here to contact us.
Featured Artist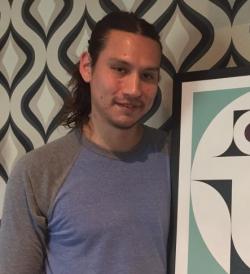 Born in Victoria, in 1986, Dylan Thomas (Qwul'thilum) is a Coast Salish artist and member of the Lyackson First Nation of Valdes Island, through his grandfather, Clifford Thomas. He also has Songhees heritage through h...
Read more >>
Dylan Thomas selected Indigenous Artist in Residence
The City of Victoria has selected Dylan Thomas (Qwul'thilum) as the newest Indigenous Artist in Residence. Dylan is taking on this role for a two-year term with the goal to engage the community in dialogue, workshops and events. He is very excited for the opportunity, saying "I hope to use my e...
Read more >>
Always a pleasure to order from Cedar Hill Long House. The pieces are always well packaged to arrive safe and sound. Service is quick and the artwork is spectacular.
Melanie, Ontario, Canada, ,
Beautiful print. Rapid delivery. Solid and safe packing. I am pleased with my first experience with Cedar Hill.
Genevieve, Quebec, Canada, ,
Stunning! Beautiful!
Melanie, Ontario, Canada, ,
Beautiful piece - well packaged and great value shipping. Thank you!
Rupert, Ontario, Canada, ,
I have purchased prints from Cedar Hill Long House in the past. They are easy to do business with and package for shipping with expertise and care. The print arrived in great shape and really quickly.
Christine, Washington, USA, ,
Fabulous piece; good price.
Deryl, Washington, USA, ,
Wonderful print, great customer service, super delivery. Many thanks again!
Ian, British Columbia, Canada, ,
Beautiful print, safely packaged and received very quickly.
Rebecca, Oregon, USA, ,
Both Joe Wilson prints that you shipped to me are on the wall. They are a wonderful addition to my home. If you get another print from Joe please let me know.
Mike, Oregon, USA, ,
My friend loved the art piece I bought him. I would recommend Cedar Hill Long House to all Native art lovers.
David, Ontario, Canada, ,
Thank you for a wonderful transaction. We received the print in no time, and it looks great in our home.
Sabine, Ontario, Canada, ,
The Crab print has just arrived. It is absolutely gorgeous. I really love it. I cannot get enough of it.
Liam, Pennsylvania, USA, ,
It looks even better in real life than online.
Nancy, Ontario, Canada, ,
The package arrived today. I'm greatly looking forward to getting them framed.
Suzanne, Australia, ,
I received it today and it's beautiful.
Jean, British Columbia, Canada, ,